The Village Green!
This is a space for all U3A members to send in any contributions they would like to make public - poems, photos, works of art, general comments, news and views.
To Submit material: CLICK - seymu3a@gmail.com - simply type or paste your material into the email or put it in an attachment to the email.
---

An interesting project by Len Fidler
Len Fidler initiated a project at Seymour Men's Shed to build a coftin. Ron Porter did much of the woodwork, while Jill Fidler did the painting, calligraphy and cloth lining. Jill was not too keen on the idea to begin with, but accepted it on the proviso that Len doesn't take up occupancy too soon!
Michael Coffey (President Seymour Men's Shed), Leonard Fidler, Ron Porter
The story of the coffin was written up in the Seymour Telegraph on 22nd of February 2017 and was picked up by ABC radio Shepparton and broadcast on Saturday 25th of February. So there are lots of ways to become famous.
*****************************************
Some extracts from the Australian light horse Memorial Park Newsletter
February 2017
It is almost March and the park is looking beautiful after spectacular rain in the Spring and early summer. The golden grasses look lovely, and large areas were mowed before the hotter drier weather set in. You can see up to 60 kangaroos munching away doing their best to eat it all down.
AGM and election of new committee. October also saw the re-election of Greg Smith as president of the Light Horse Park Committee, with Bruce Anderson re-elected as Secretary. Tony Wallis agreed to take on the Treasurer's role again. New committee members were Ian Walton and Ed Gutjahr and Megan Gough. The committee is strong and keenly interested in the park. Cr Rhonda Sanderson our wonderful Council representative was elected Mayor of Mitchell, a very well deserved honour. She continues to be a regular presence at committee events.
37th remembered. In October 2016, we unveiled a commemorative installation at the Railway Station to the 37th Infantry Battalion, who marched in from the Camp in the early hours, leaving from that very place in 1916. They subsequently trained under Monash on Salisbury Plain in England before going to France in November that year. They had a hard war, their numbers reduced from 1000 to a fighting strength of just 90 at the end. Declining to be disbanded into other units, they were truly "The Indivisibles." Their story is to be found in a book by N.P. McNichol, a copy of which we donated to the Seymour Library. It is a compelling book, very readable.
Relief of Mafeking. In January, members of the Rover Scouts from Mafeking Camp came and worked under Bruce's guidance for two days of hard work with wheelbarrows and a hand concrete mixer, building causeways in some of the washed out areas. These young people from all over Australia and some from overseas were an absolute delight, polite, intelligent and keen. It was a great pleasure to have them involved with the project.
Commemorations. We also intend to launch two new interpretive plinths to commemorate the role of horses in WWI, in the Waler Paddock, in April. Greg Smith has been working on this project, and donations were received from the community towards it.
In March, a group of ex National Servicemen will be visiting the park. Site 17, as it was known in earlier times, was used as a training ground for cadets and nashos up till the 1960s I believe. We would love to hear more on this.
October 2017 will be the 100th Anniversary of the Charge at Beersheba on 31 October 1917. This has enormous significance to those interested in military history.
Meanwhile the park flourishes and blooms with more and more people discovering it and using it to run, stroll and ride as their own special place.
From Lesley Dalziel 25 February 2017
*****************************************************
An amazing 2 letter English word !
A reminder that one word in the English language that can be a noun, verb, adjective, adverb and preposition. "UP"
Read until the end ... You'll laugh.
This two-letter word in English has more meanings than any
other two-letter word, and that word is 'UP.' It is listed in the dictionary as an [adv.], [prep.], [adj.], [n] or [v].
It's easy to understand UP, meaning toward the sky or at the top of the list, but when we awaken in the morning, why do we wake UP?
At a meeting, why does a topic come UP? Why do we speak UP, and why are the officers UP for election and why is it UP to the
secretary to write UP a report? We call UP our friends, brighten UP a room, polish UP the silver, warm UP the leftovers and clean UP the kitchen. We lock UP the house and fix UP the old car.
At other times, this little word has real special meaning. People stir UP trouble, line UP for tickets, work UP an appetite, and think UP excuses.
To be dressed is one thing but to be dressed UP is special.
And this UP is confusing: A drain must be opened UP because it is stopped UP.
We open UP a store in the morning but we close it UP at night. We seem to be pretty mixed UP about UP!
To be knowledgeable about the proper uses of UP, look UP the word UP in the dictionary. In a desk-sized dictionary, it takes UP almost 1/4 of the page and can add UP to about thirty definitions.
If you are UP to it, you might try building UP a list of the many ways UP is used. It will take UP a lot of your time, but if you don't give UP, you may wind UP with a hundred or more.
When it threatens to rain, we say it is clouding UP. When the sun comes out, we say it is clearing UP. When it rains, the earth soaks it UP. When it does not rain for awhile, things dry UP. One could go on and on, but I'll wrap itUP, for now . . .
My time is UP!

Oh . . . One more thing: What is the first thing you do in the morning and the last thing you do at night?
U....P!

Did that one crack you UP?

Now I'll shut
UP!
A contibuter from Florida USA 25 January 2017
*******************************************
A Visit to "Newstead Live".
What a weekend I have just enjoyed.
Imagine, if you will, a lovely quiet country town of about 900 people. This town has a wonderful community spirit and, about 11 years ago, a team of locals joined forces and organised a weekend of music and fun. I don't know how many people enjoyed that initial weekend but there were thousands in Newstead this past weekend to enjoy the music, the street buskers, the jam sessions along the street, the impromptu gigs, the food, the drink, the sights and the dance session on Saturday night.
The food was delicious. The weather warm (I have ordered a rechargeable personal fan since arriving home today), as was the companionship of all these people. A bus ran from the camping area to the various venues. There were two churches used as small intimate acoustic venues, as well as a couple of big tents, the community centre, the kindergarten and, even, the pool.
All ages from the just born, to children, to teenagers, young marrieds through to the oldies. We enjoyed the time together.
An, almost, tangible buzz was around the town. I spoke with quite a few locals and they all enjoyed having the festival in their town. The Men's Shed was in the midst of everything, manning the camping ground (the race course) and having a BBQ for breakfast, lunch and tea.
And, yes, I even did a spot of geocaching, seeing a giraffe, chimpanzee and an elephant on one property, and one of the most interesting cemeteries I have seen in a long time.
I also made another folkie friend. I see many folkie friends at festivals to which I go. It is always fun to catch up with them, and exchange experiences and names of up and coming new acts.
It is also amazing the Seymour people who are seen at these events!
"Newstead Live" was a very lively, fun filled, and wonderful musical weekend.
Heather Baetge 29 January 2017
******************************************
Seymour & District U3A Enrolment Day - 17 January 2017
Although it was a very hot day, there was a great turnout of members and new members. John Thompson got into the spirit of the day by dressing in a wonderful garb as William Shakespeare to highlight the new and exciting course 'Spritzy Shakespeare'.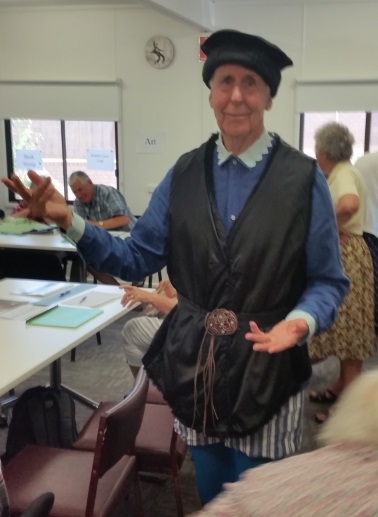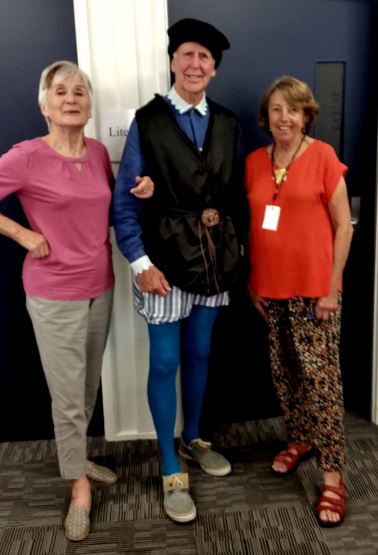 17 January 2017

****************************************************************************************************
---