The Village Green!
This is a space for all U3A members to send in any contributions they would like to make public - poems, photos, works of art, general comments, news and views.
To Submit material: CLICK - seymu3a@gmail.com - simply type or paste your material into the email or put it in an attachment to the email.
---
A Wonderful Memorial to Len Fidler
The Seymour Men's Shed have created a wonderful memorial to Len Fidler by designing, building and erecting a seat on the banks of the Goulburn in a beautiful spot on the walking track, between the old bridge and the boat ramp. Len was an active member of U3A: a past member of our Council, Leader of the former Antiques program and about to be speaker at the Melting Pot on 1st August - see story of his coffin, below.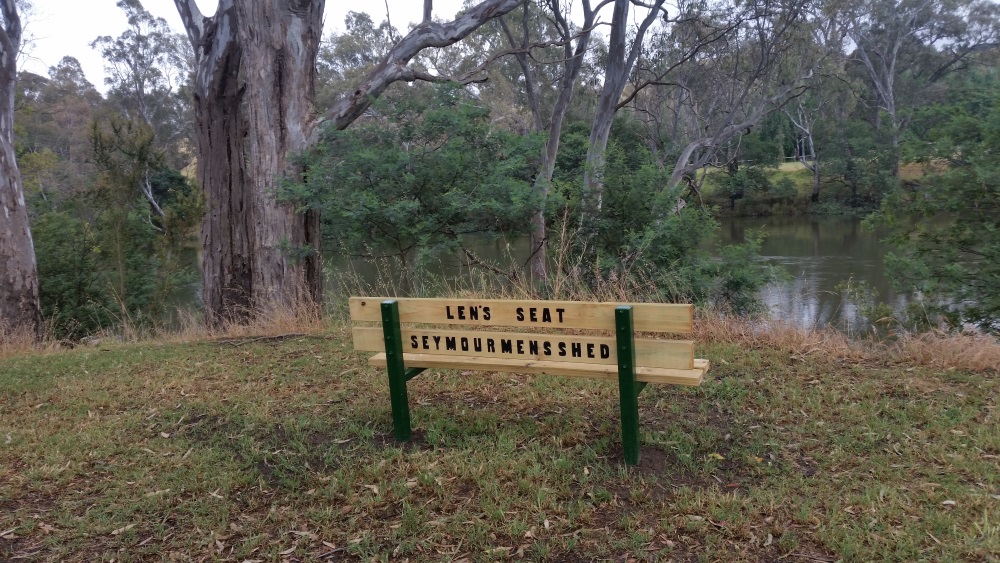 An interesting project by Len Fidler
Len Fidler initiated a project at Seymour Men's Shed to build a coftin. Ron Porter did much of the woodwork, while Jill Fidler did the painting, calligraphy and cloth lining. Jill was not too keen on the idea to begin with, but accepted it on the proviso that Len doesn't take up occupancy too soon!
Michael Coffey (President Seymour Men's Shed), Leonard Fidler, Ron Porter
The story of the coffin was written up in the Seymour Telegraph on 22nd of February 2017 and was picked up by ABC radio Shepparton and broadcast on Saturday 25th of February. So there are lots of ways to become famous.
It was sad to learn that Len Fidler died on 1st August. In a bitter twist of fate he was planning to make a short presentation at the melting pot that day, "Let's Face It – Death and Dying is Inevitable". Our deepest sympathies go to his wife, Jill, a past president of Seymour & District U3A.
*****************************************
Melting Pot – 1st August 2017
The title of the presentation was "let's face it – death and dying is inevitable!". The speaker, Cherie Scott is a Celebrant and Certified Compassionate Communication Trainer. She outlined examples of an approach to end-of-life that can improve the quality of life itself.
**************************************************************
8.12 Travellers 27th July 2017
The 8.12 Travellers visited the IceBar and then had lunch in Brunswick Street on 27th July. Some great photos:
*****************************************************************************************************************************
Special Melting Pot
Understanding the Aged Care System – consumer directed care
Approximately 38 people were at the Melting Pot on Friday morning 31 March and we were pleased to note that Councillor Rhonda Sanderson, Mayor of Mitchell Shire, and Councillor Bill Chisholm attended.
John Doutch, a volunteer from the Council on the Ageing (COTA), explained how the new program is much more flexible than the old system, which was fixed, with little account for the needs of the person concerned. As an aside, he pointed out that the government was particularly anxious for older people to remain in their own homes as long as possible. This ensures a happier community and at the same time has far less impact on the Commonwealth budget.
In essence, anyone needing home help can apply for a Commonwealth Home Care Package via the web "My Aged Care" or by phone 1800 200 422. Their needs are then assessed by a team and they will be granted a package, depending on their requirements. The package is evaluated as an amount of money that can be used in a variety of different ways, ranging from: personal services (bathing, dressing, etc.), cleaning, cooking, nursing, transport, equipment aids (walking frames, safety alarms, etc.), home maintenance, and other areas that may be required.
Once a person has been assessed and the level established, an amount of money is granted to meet the home needs of that person. This money can be accessed through a "Home Care Provider". A number of Home Care Providers have been approved by the government and when the mature person has been notified of his or her grant, he/she can select a Provider. All financial transactions – receipt of the grant and payments for the care services – are in the hands of the selected Provider. After being notified of a successful application the mature person (with an advocate if necessary) negotiates with the Provider to arrange a budget for the services needed. The system is flexible and services may be changed as required. To ensure honesty, the Provider must present a monthly account of all receipts and payments.
In discussion it became clear that one of the disadvantages in the program is that there is often a lengthy delay before an application for a grant is approved. The delay may be as much as a year, or even more. It is to be hoped that this will be addressed by the government.
*****************************************